Construction Acoustic Fence Material for Construction Sites Noise Reduction
Why do we often see construction sites with fences, but fail to consider the sound generated by the building under construction? This is due to the fact that so far, there has not been a cost-effective way to deal with this type of noise. The construction noise fence provided here is a reusable indoor and outdoor construction acoustic fence. Contact us to learn about our acoustic fence price!
Construction Acoustic Fence Feature

Excellent acoustic performance
Industrial durability
Simple and quick installation system
Lightweight and easy to handle
Unique roll design for easy storage and transportation
Ability to add brand or message
Available accessories range
Weatherproof-absorb sound but not water
Flame retardant
1 person can do 2 to 3 jobs
Product Testing and Information
Installation
Acoustic test
Fire test
Product Image
Size: 1×2.4m
Weight: 7.4kg/m2
Acoustic performance: reduce the noise by 27dB (if the acoustical fence is doubled, the effect will be better)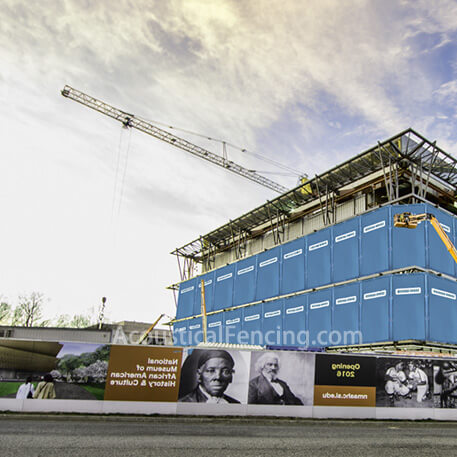 Construction acoustic fence is a reusable acoustic fence material. The construction noise fence is designed for various temporary fences. This construction noise fence absorbs sound while maintaining quick installation, light carrying and durable effects.
Benefit
Construction acoustic fence and temporary acoustic fencing can help reduce noise complaints, improve company reputation, extend on-site working hours, reduce project time and costs, and improve working conditions. Our construction noise fence can be branded according to the design and information you choose to convey your spirit and brand to the public.
Application field
This acoustic construction fence is very suitable for construction and demolition sites. Track maintenance and replacement; music, sports and other public activities; road construction fencing; public utilities/maintenance sites; loading and unloading areas; outdoor gun shooting ranges.
Installation
Using our quick hook system and specially designed elastic straps, you can easily install this construction noise fence.