Different projects have different requirements, which can only be met by soundproof fencing manufacturers. Our factory can customize acoustical fencing. You can choose size, thickness, densities to customize. OEM/ODM service can make you a local soundproof fencing supplier.
Have a look at our FAQs to find out how our soundproof fencing work, how to install, disassemble and store them, and how you can use them to promote your company. If you have any other questions, please contact us.
Installation
FAQ 1 How do I fit soundproof fencing products?
Just slot the barriers' eyelets over hooks on traditional fencing or hoarding when use outdoors; Hang on ceiling or other structures when used as industrial soundproofing blankets .
Secure in place with plastic buckles.
FAQ 2 Can I prevent noise escaping upwards with temporary soundproofing fencing products?
Our acoustic enclosure is designed to house machinery and cutting equipment, blocking sound escaping in all directions.
FAQ 3 Can they used installed in residential areas?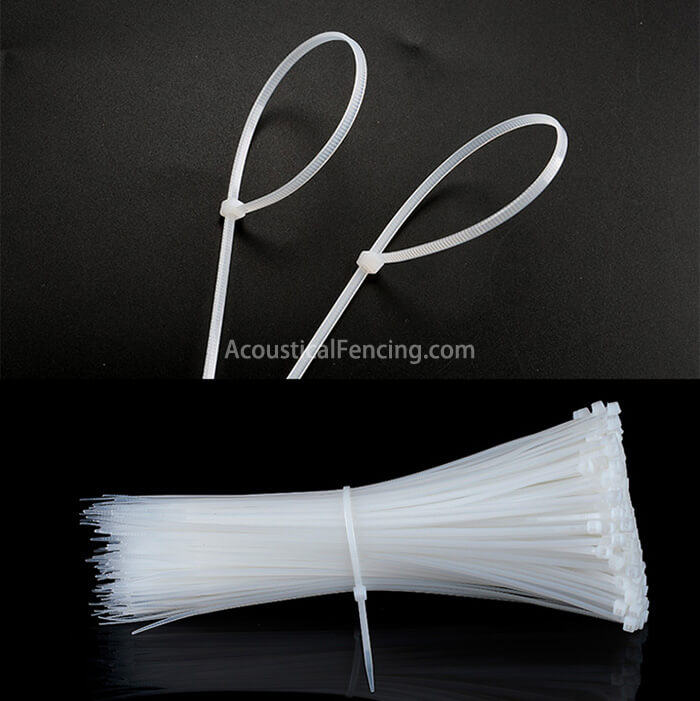 Yes, they can be installed around your garden for soundproofing road noise, soundproofing outside noise and soundproofing walls from noisy neighbours. If you have wood fencing, just hang it on wood fence.


Performance
FAQ 1 How do soundproof fencing products work?
By absorbing rather than reflecting sound;
High quality acoustic absorbent composite inside heavy duty PVC;
Hang on traditional site fences and/or scaffolding to stop noise escaping;
Waterproof acoustic absorbent material, absorbs sound not water;
Most effective if placed as close to the source as possible.
FAQ 2 How quickly can you deliver them to my site?
We don't stock. All are customized which takes 20 to 30 days. Larger orders (500+) might take a little longer. Distributors are wanted. Contact us for details.
FAQ 3 Why are they so effective?
Most other barriers only reflect sound. Our sound proof fencing products absorb noise which means better performance both outside and inside the site, making it a better solution for the public and your on-site workers. Ongoing product testing and development means constant improvement.
FAQ 4 Why should I use soundproofing fencing products rather than traditional noise blankets?
You can install our sound proofing fencing up to four times faster than competitor products, with half the number of people;
With a lifecycle of two to five years, our soundproof fencing typically last up to five times longer than conventional products;
Our soundproof fence is waterproof, which means they maintain market-leading sound absorption levels even in the wettest conditions;
Made from a polyester wool instead of fiberglass or rock wool, our temporary outdoor acoustic panels don't suffer dust or handling safety issues;
Hand-finished and weatherproof, our Soundproof Fencing look smart throughout their lifecycle, improving the public's perception of their effectiveness;
You can brand them with your company logo or community care message and match them to your corporate colours.
FAQ 5 Can I use soundproof fencings in adverse weather?
Yes you can. They are waterproof so can be used in rain, sleet or snow.
FAQ 6 What makes soundproof fencing products waterproof?
They have waterproof front and hydrophobic back. Hydrophobic is similar to waterproof, blocking water like lotus leaf.